Best LED Ring Chandeliers to Buy from VAXLAMP in 2023
Does your living room lack some stylish lighting that evoke the feeling of modern elegance? VAXLAMP a leading dealer in superb LED ring chandeliers is happier to bring you a large variety of chandeliers in different styles, including luxurious gold halos, black designs, orbit circles, and circular metal fixtures.  Herein is a comprehensive guide on some of the best LED chandeliers in 2023.
This is a modern chef-d'oeuvre that integrates aesthetics and functionality at the same time. Its cutting-edge LED source provides energy efficiency, safety and long-lasting performance.
It comes in five different options - single, double, triple, four, or five rings that may be configured flexibly according to your unique tastes.
The designs are well crafted from high quality acrylic and aluminum materials. The remote control helps you to control the brightness for a need to set the mood for any experience.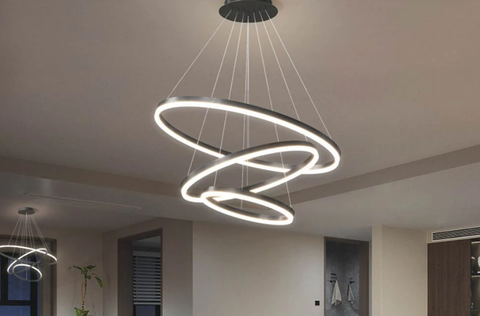 Features:
Modern, Luxury, and Minimalist Styles
Adjustable 3 Light Colors (Warm, Neutral, and White)
Color Gold
Dimmable - Yes
Size:

3 Rings: Max. Dia 39.37''
5 Rings: Max. Dia 39.37''
Stylish and simple, that's how we can describe this Chandelier design. to steal your breath. Thanks to a high-temperature paint process, this lighting feature has a glossy appearance and a bright color that adds elaborateness to any space. Adjusting this beautiful piece is quite simple; all you have to do is to tug on its height-adjustable hanging wire. 
Features:
Comes in Gold, White+Black Colors
It is Dimmable
Size of Dia 21.65"
Hanging Wire Adjustable 59.01''
This Chandelier has a clean and fashionable look. You can adjust its ring design according to your desire. Its LED chip and quality driver make this artwork energy-efficient and low maintenance. It would look good in your bedroom, living room, or dining room.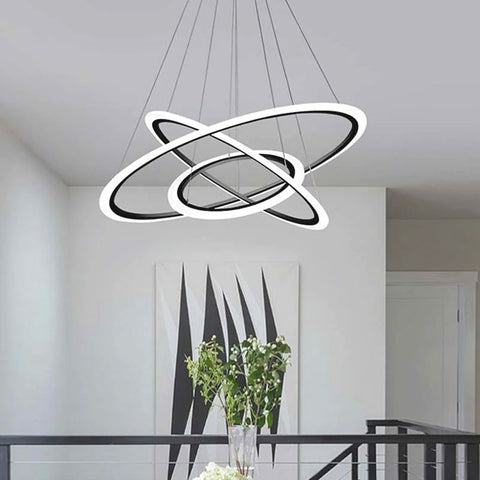 Features:
Maximum Wattage is 120W 
Not Dimmable
Modern, Minimalist Style
Maximum Size Dia 31.5''
Non-adjustable (Warm White) Color Temperature
Voltage 220V-240V
If you want a chic and contemporary look for your home space, this hanging chandelier is for you. It's thin cables and an integrated LED strip will deliver an ample dose of luminance and reduce your energy usage. It also comes in three shades that let you choose a color matching your vibe. Its metal construction makes rooms look classy and sophisticated.
Features:
Suitable for 110V-240V in your region 
Maximum Wattage Up to 60W 
Light Source Integrated LED 
3 Adjustable Light Colors (Neutral, Warm, White) 
Made of Silicone or Aluminum 
Comes in Either Black or Gold Color
Style is Either Nordic, Minimalist, or Contemporary 
Supports Dimming
Shade Size of L19.59'' x W19.70'' x H7.87''
Why Choose VAXLAMP LED Chandeliers?
In addition to stunning designs, VAXLAMP LED chandeliers come with other cool features:
All orders within the US enjoy free standard shipping
VAXLAMP offers a 1-year manufacturer warranty.
30 days to return your purchase if unsatisfied.
Secure payments so you can relax knowing your info is protected.
Conclusion
If you love upgrading the look of your home's decor, LED chandeliers are the ideal appliance to add life to your home. They are long-lasting, energy efficient, and come in different styles and colors. VAXLAMP chandeliers are all about lighting your rooms, creating a warm family feeling, and highlighting a sense of fashion and space indoors.