4 Best Ceiling Fans with Lights
Ceilings with fans and lighting fixture arrangements can become messy especially for people aiming for a minimalist interior decor style. We often encounter questions from homeowners inquiring about the best light and fan placement to avoid an overcrowded ceiling look. But while there are various suggestions online, you will never go wrong with these fandelier light options from vax lamp:
This ceiling fan light fandelier flush mount is a minimalist Nordic design with a natural rubber wood casing and pc blades for good durability and flexibility, ensuring a bright lit room with blanched air supply. The integrated 60W 110-240V light source is LED for durable, eco-friendly and energy saving lighting.
It bounces uniformly off the acrylic shade, diffusing evenly throughout the room for a calming and relaxing ambience, accentuated by the cool breeze from the rotating PC blades. Feel free to install it in your bedroom, living room, study room or office.
You can adjust the color temperature to warm, neutral or light as you like. Plus, it comes with features for both manual and remote control to complement your smart home design. Check the product page for user reviews and more details about this Nordic wood acrylic fandelier.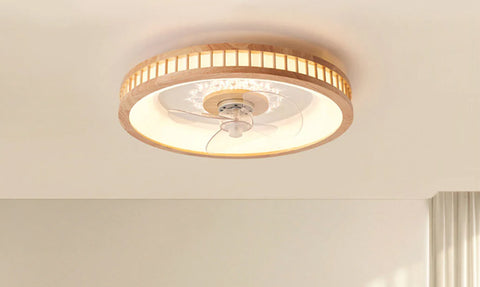 This ceiling fan light combines a 72W 110V-240V LED light source with a 20W fan motor inside an acrylic, aluminum and iron double ring structure. You will love the minimalist neat design plus the flush mount installation.
Simply attach it to your ceiling and let there be light and gentle or strong breeze for a super-duper sleep, study or work environment. We've also made it easy to operate whether remotely or manually. Feel free to set the timer so the fandelier operates when you want it.
You can also adjust light colors from warm, neutral and white to achieve the ambience you want. The adjustable light color feature also helps save energy, improve the lifespan of the light source and leave you with extra change in your pocket.
The fan motor is all copper DC with up to six-speed levels allowing you to go from soft to strong breeze and every level in between. Overall, this is a fantastic product to decorate your ceiling and get the light and airflow control in one place. You can use it in your bedroom, living room, study room or office.
This fandelier combines an all-copper DC fan motor and a pitch-black iron frame with candlesticks into a retro style fixture for cooling and illuminating your room. The 110V-240V LED light bulbs bounce light onto the ceiling and into your room and can be adjusted from warm to neutral and light tones for desirable ambience.
Meanwhile the DC fan motor is equipped with blades and comes with a confidence-instilling 5-year warranty. The whole thing hangs from the ceiling via flush mount and operates quietly to ensure silence in your study room, office, bedroom or any indoor area you feel like installing it.
The control type is remote-enabled so you can switch it on and off from wherever you are in the room. Check the product page for user reviews and more details about this retro style black fandelier with golden or black light cup.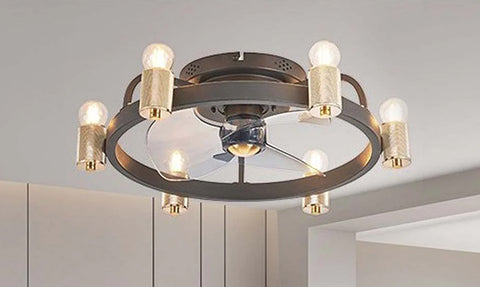 This ceiling chandelier combines a quiet motor fan with an 84W 110-240V LED light source inside a wooden, acrylic ring for soft lighting and cool breeze. The fan blades are PC and sit atop the lamp shade for a 180-degree illumination and uniform lighting.
The setup is simple to install; it hangs from the ceiling via flush mount and can be controlled manually remotely. The shade color is that of natural wood to blend comfortably with your interior decor and also reflect soft light for a calming and relaxing ambience. You can use the fandelier in your study room, dining room, office or bedroom.
There you go, brave homeowners. Whether you are looking for a minimalist fan and light combo like the Nordic wood acrylic fandelier or a bold design piece like the industrial farmhouse flush mount, we sure have got something for you.
And what's more, we set competitive prices, plus various discount options and a 12-month warranty on all lighting fixtures. If you don't trust our words, check out our products page to see what other customers have to say about our products.