Recommended Wooden Flush Mount Ceiling Lights
When it comes to ceiling lights, especially low ceilings, flush mount lights, particularly those made of wood are an ideal option because they can add a touch of beauty and elegance to a room without appearing too awkward. You can use wooden flush mount ceiling lights for accent lighting, decorative lighting, accent lighting or just general illumination. Wood is an inexpensive material, making these lighting fixtures affordable.
Plus, it's durable and helps add warmth and charm to a room. Here's a look at some of the best wooden flush mount ceiling lights from VAXLAMP. We sell and ship lighting fixtures to the US, Europe, Australia and New Zealand at affordable prices with comprehensive warranties.
Take a look at these stylish flush mount ceiling lights featuring wood and other high-quality hardware materials.
Like a smiling cloud planted flush mount against your ceiling and flushing some warm, relaxing light on you, this wooden light fixture integrates a dimmable 110V-240V LED light source inside a sturdy wooden and wrought iron casing with white shade.
You will love the cartoon character design, especially for decorating and providing light in your children's room. The fun design is easy to relate to.
Plus, it comes with remote control features so your child can change the tone or switch it on or off as they please without having to step off their bed.
You can switch between warm, white and neutral light color options, and they softly bounce off the acrylic to enhance the aesthetics of your child's room while conserving energy, providing eye protection, and having a super long lifespan. You can get it in white, green or pink options.
Forged with iron, wood and acrylic, this flush mount ceiling light integrates a 24W, 36W, 48W, or 80W 110V-240V LED light source inside a modern, minimalist, Nordic design with switch and remote-control features allowing users to switch between warm, white and neutral interior illumination.
The shade looks just like a dreamy cloud, while the underside comprises rust-proof and corrosion-resistant materials for longevity.
It features enhanced eye protection with a wide-ranging spectrum, preventing the distress of blue light while illuminating your room uniformly and cozy for better study, cooking, relaxing, etc.
Feel free to use this light to add a touch of personality to your bedroom, study room, dining, office, or hallways. You can use it in your bathroom, too, to achieve a warm and inviting shower atmosphere. You don't have to worry about corrosion or rotting, thanks to the acrylic paint.
Crafted from premium wood, iron, leather and acrylic, this flush mount ceiling light integrates a 27W, 36W, or 72W 110V-240V light source inside a tambourine-like design with switch and remote-control features. It's designed to add a touch of rustic charm to your bedroom, dining, study room or living room while casting a soft, diffused light for relaxation and enhanced eye protection.
The light color settings include white, warm and neutral so you can create the effect you want, including a soft and inviting glow, energized and task-oriented, etc. The casing itself is sturdy, thanks to the high-quality material. It has a stable placement and a super long lifespan.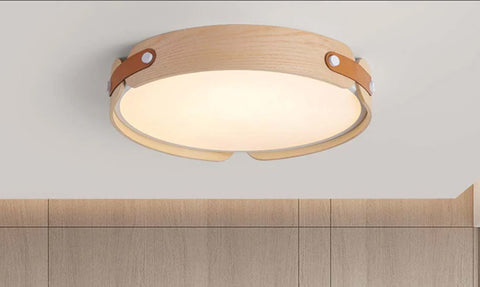 Combining a minimalist Nordic Zen design with energy-saving technology, this flush mount ceiling light is beautiful and bright enough for illuminating and creating an elegant atmosphere in your bedroom, study, living room, etc.
The integrated Light source is 110V-240V LED enhanced with switch and remote-control features for convenient switching on and off and setting selections.
Available color tones include warm, white and neutral, and they work well with the log-colored shade to produce the affects you want, be it neutral, soft and enchanting glow, or energized and stimulating. The LED design provides enhanced eye protection and energy saving.
This flush mount ceiling lights is a thing of beauty. It comprises four milky white bulb shades attached to a wooden structure designed like a windmill for a playful appearance suitable for decorating entertainment or children's spaces.
It works with 36W or 48W 110V-240V LED light sources and only features switch control, so place the socket where your child can access it for independent control. We've made it so the color temperature can be adjusted from neutral to warm and white, depending on your preferences.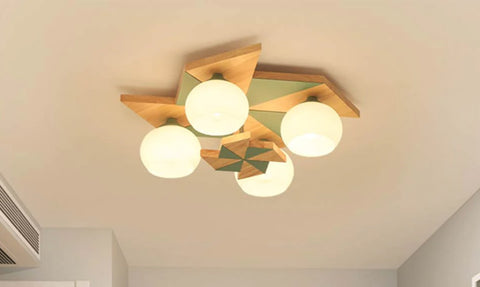 There you go; you won't go wrong with the above wooden flush mount ceiling light designs. They are neat, breath-taking, versatile, and long-lasting to boot. Feel free to check what other users have to say about them. Also, if you are looking for more designs, take a look at our other light options.