5 Best LED Cloud Ceiling Lights
Whenever you are shopping for lighting fixtures, keep in mind ceiling lights. They provide such a gorgeous effect to your space, lighting up rooms. It does not matter the décor you have; you can always get quality, marvelous ceiling lights on the market to suit your space. Below are the five best LED cloud ceiling lights to consider for your property.
Combining elegance and simplicity, the Cream Cloud Ceiling Light is a breath-taking light fitting. You can order it in different sizes to match various room dimensions. That way, you do not have a too big or too small light for your home. You can install this eye-catching light in bedrooms, living rooms, and dining areas. It is made of environment-friendly PE and metal for longevity, and you can change the color temperatures to suit different occasions. Moreover, you can dim the light if you like, which comes in handy when you need to create an intimate atmosphere. With its white shade color, this ceiling light looks fantastic with any wall color, and you can operate it using a switch or remote control.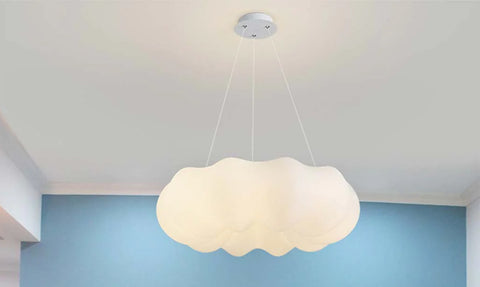 Are you decorating your home or perhaps changing a few things? A cloud ceiling light like the Macaron Smile Fixture will make an impressive impact on its overall appearance. It provides a cozy effect to spaces, giving them a warm, welcoming look. This ceiling light comes in lovely pink, white, and green shades to ensure every décor gets a lighting shade that matches it beautifully.
Furthermore, the incorporated smile feature on the ceiling light provides a playful touch to your child's bedroom or playroom. You can also use this light with remote control, an aspect that enhances its user-friendliness and modernity. With the wood and wrought iron used in making this ceiling light, you get a product that is long-lasting and sturdy. Enjoy the coziness it offers and add a touch of style and elegance to your home.
Available in different sizes, the Flower Cloud Ceiling Light is a lovely fixture to consider for different rooms in your house. It is made with wood and acrylic and looks spectacular on every ceiling. It is well-built, and the flower shape is a wonderful shift from regular lighting shapes like squares and rectangles. With this light fixture, your space gets the brightness it needs.
The last thing you need is a poorly lit space. You can adjust the light colors when using this fixture, with the options being warm, neutral, and white. That way, you can quickly change the mood around your space and create whichever atmosphere you need. Moreover, this ceiling light's log color pairs gorgeously with different decors, enhancing its visual appeal.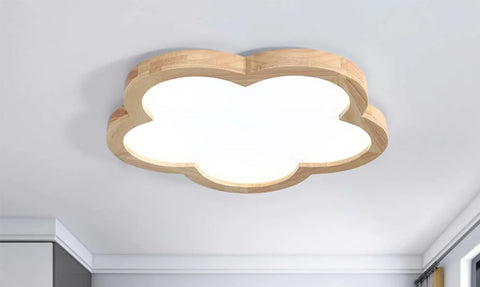 Create a soothing atmosphere for your bedrooms with the Starry Sky Cream Cloud Ceiling Light. It is an elegant fitting, considering it is made with wood, iron, and acrylic. The white and log color shades combine beautifully to give spaces an eye-catching light fixture.
Your kid's room can use this product. It provides warm lighting, helping create a soothing mood in the bedroom. Additionally, it is made with upgraded LED beads to protect your child's eyes.
It is dimmable and usable with a switch or remote control. When you need to create a different mood for your space, this ceiling light allows you to change its color temperature to suit your needs. That is not all. Thanks to the sky and cloud imprints incorporated in the fixture, your bedroom gets even more sleep-friendly, helping drift you away to slumberland. 
There is no excuse for boring, dull lighting when you have a light fitting like the Dreamy Cloud LED Light. It does not matter your décor; this fixture looks fantastic in every room and comes in different sizes to fit your space, large or small.
It features a sturdy construction with wood, acrylic, and iron used to make it. It is high-grade, stays elegant, and offers quality lighting for your living room, dining area, and bedroom. If you like to dim your light, this product is designed for you. Its light is dimmable, and you can change the light color if need be for added comfort. In case you are going to a housewarming party, this elegant fitting can be a thoughtful present for friends and family.
Every room in your house deserves a nice, elegant ceiling light. LED cloud ceiling lights provide a fresh look to your lighting game. Elevate your interior style with lights like the ones we have discussed above, and watch your space transform into a haven for you and your family.